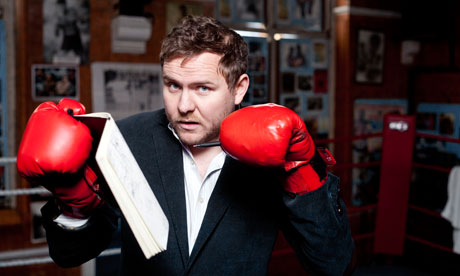 Hi, guys. Exciting news today, a new video of my poem 'Girls who Read,' has gone up on YouTube and it's gone viral. Thanks so much to everyone who has shared it online. Over a million views so far for a poem written in an evening is pretty cool. If you haven't seen it, the link is attached below and I'm hoping that you like it.

The video itself only really came around due to the immensely talented Guy Larsen. I first met Guy when I was performing in Edinburgh. He'd come to see my show and we got chatting afterwards. Since then, we've been linking up where we can - he's really impressive, both as illustrator, filmmaker and human being -you should go and track him down before he's well out of your price range!

Anyway, a few months ago, Guy got in touch. He wanted to make a video of 'Girls who Read' and he had seen that he could apply to Roundhouse for funding. He got a huge crew of amazing people together, scored some funding from a very kind woman at Roundhouse and we set to work. What you see below is the culmination of our efforts and that £400 budget. It was tough to make it stretch, and we had to call in favours by the bucket load- everybody involved is a friend of ours, who offered to give their time for free. They're all incredible people. Look out for guest spots from the delectable Mos Prob and my partner in (c)rhyme, Mixy.


I'm excited about the video. It's probably my most popular poem, having also gone viral last year, and I'm really pleased that so many people like it. The poem is quite a personal one, too. I tend to get emails all the time from people who have been positively impacted by the piece. It's also the first poem I read to my girlfriend, Lucy, (she was a librarian at the time) and I might not be living with her now if I hadn't written it.

Added to this, it's also a poem that has attracted some criticism. At one point I was told that the piece should be removed because it's 'reinforcing patriarchal values, objectifying intellect' and that my ideal woman is 'voiceless'. Thankfully Lucy didn't think that was the case (she finds the 'voiceless' part kind of funny, to be honest). If you were to ask me, I'd say the same- in fact, if I was to say anything about the piece, it's that I don't think it's even about reading, really.

But none of that is really important. Once I finish a piece of work it doesn't really matter what I think. It's in your domain now. It's what you think that matters.

So what do you think? How does the piece make you feel? Should it be hoisted among the stars/plastered around the internet as 'A Feminist Anthem*', bludgeoned to death on the pavement, for its 'sexist tropes*' or just ignored as a bit of a 'meh' poem? It's not really my call. It's down to you. All I'd say is- if you like it, please say so and say why. If you don't, please do the same. And if you feel passionately either way, please try to be considerate of the views of others. If the piece creates a debate and gets people thinking/talking about poetry/gender/equality/pious guys in suits then that's really cool as it's probably achieved something.

Anyway, got to go. I've got a rap battle to prepare for and I need to source some funding for another vid, whilst finding some work for December. If you need a poet, give me a buzz.